MOTH:
Taster Pack
Regular price
Sale price
£20
Unit price
per
Sale
Sold out
A toe-dipper, if you like. Test the waters with the full range of MOTH cocktails - all in one box. Fight for your favourite, or judge each for yourself. We think you'll be impressed.

*6 Pack does not contain Negroni or Old Fashioned.


Free Standard Delivery over £25
Next Working Day delivery available before 2pm
Add a gift box & card at checkout
Mix of Total Happiness Mix of Total Happiness Mix of Total Happiness Mix of Total Happiness Mix of Total Happiness
Product description

6 PACK
x1 Margarita
x1 Espresso Martini
x1 French 75
x1 Piña Colada
x1 Mojito
x1 Aperitivo Spritz
**Negroni & Old Fashioned not included.

12PACK
x2 Margarita
x2 Espresso Martini
x2 French 75
x2 Mojito
x1 Piña Colada
x1 Aperitivo Spritz
x1 Negroni
x1 Old Fashioned

24 PACK
x3 Margarita
x3 Espresso Martini
x3 French 75
x3 Piña Colada
x3 Mojito
x3 Aperitivo Spritz
x3 Negroni
x3 Old Fashioned


Margarita
125ml, 14.9% ABV—Tequila, Triple Sec. Lime
Fresh, sharp and confident. We think you'll like it. Show it off in a martini glass with a salted rim. Also good over ice with takeout. Or just drink and dance.


Espresso Martini
125ml, 14.9% ABV—Vodka, Cold Brew, Coffee Liqueur
Count on this to open your eyes. Smooth, bitter, balanced. Likes a glass icy enough to write your name on. Goes with sweet things, like a lover. Perfect with your favourite playlist.


French 75
200ml, 10% ABV—Pink Gin, Fiz. Lemon
This one loves a soirée. Zesty, dancy and a little bit fancy. Wears a sequin beret. Pairs with a platter. Can keep a secret.


Piña Colada
200ml, 10% ABV—Rum, Pineapple, Coconut
It's silky-sweet and swanky. Think pink skies on Puerto Rico. Cheeky with a cherry on top. It's singing that song from 1979 - if you like?


Mojito
200ml, 10% ABV—Rum, Mint, Lime, Soda
Soulful, juicy, bittersweet. It's lazy poolside dreamin'. Goes with fresh cuisine and wants to see your wild-side. Cha-cha-cha?


Aperitivo Spritz
200ml, 10% ABV—Bitter Orange, Gin, Fizz, Soda
Sparkly, bright, bold. It's giggles at golden hour. And stories at sunrise. All eyes a-twinkle over the table.


Negroni
125ml, 14.9% ABV—Gin, Vermouth, Amaro
Enigmatic and floral. Punchy and bitter. Loves the journey—and slips in your travel bag—to Florence? Perfect at sunset. Or sunrise, if you're happy to talk forever.


Old Fashioned
100ml, 20% ABV—Whiskey, Bitters, Sugar
Rich, romantic, aromatic. Your go-to classic. Serve it over ice. Start a deep debate that puts the world to rights and stretches long into the night. Or karaoke.
Spirit partners

| | | |
| --- | --- | --- |
| TEQUILA | | Tequila so smooth yet so flavourful that it defies logic- the perfect base for our Margarita. Tequila Enemigo has won more awards than any other brand since their launch in 2016. The world's most celebrated tequila. |
| RUM | | Fun loving Jamaican spirits, called Duppies, are said to steal the best rum as it ages in barrels all over the Caribbean, this rum is called the Duppy Share. Their rum shines with the unparalleled warmth, fun, beauty and excitement of the Caribbean and you can taste it in every drop. They live to Share the Spirit of the Caribbean. |
| VODKA | | Sixth generation farmers, first generation distillers. Two brothers who have put as much love into their spirits as they have their family's land - their vodka is the perfect kick in our Espresso Martini. |
| GIN | | The first Cornish distillery for over a hundred years - set up by a 23 year-old surfer in 2012. Tarquin's Gin is full of humanity, steeped in the story of a young maverick Master Distiller, distilled with beautifully balanced botanicals including handpicked violets. |
| VERMOUTH | | Two brothers who insist on integrity wherever they can - and who share a blossoming love for botanical spirits. They work with their hands, making small, sought-after batches out of their South London workshop. |
| WHISKY | | Pioneers of the English Whisky scene, The English Whisky Co. is leading the way at their family-owned Distillery in Norfolk. Firmly established as England's oldest and most prestigious whisky maker, The English Whisky Co create exceptional multi-award winning whiskies using the finest locally sourced water and barley. |
| BITTERS | | Bob does it differently. An ex-pastry chef in high-end restaurants, he uses a deep understanding of flavour from a culinary perspective - and a love of cocktails - to handcraft every inch of his range of single-flavour and aromatic bitters. |
Nutrition & allergens

See Margarita nutrition & allergens here

See Espresso Martini nutrition & allergens here

See French 75 nutrition & allergens here

See Piña Colada nutrition & allergens here

See Mojito nutrition & allergens here

See Aperitivo Spritz nutrition & allergens here

See Negroni nutrition & allergens here

See Old Fashioned nutrition & allergens here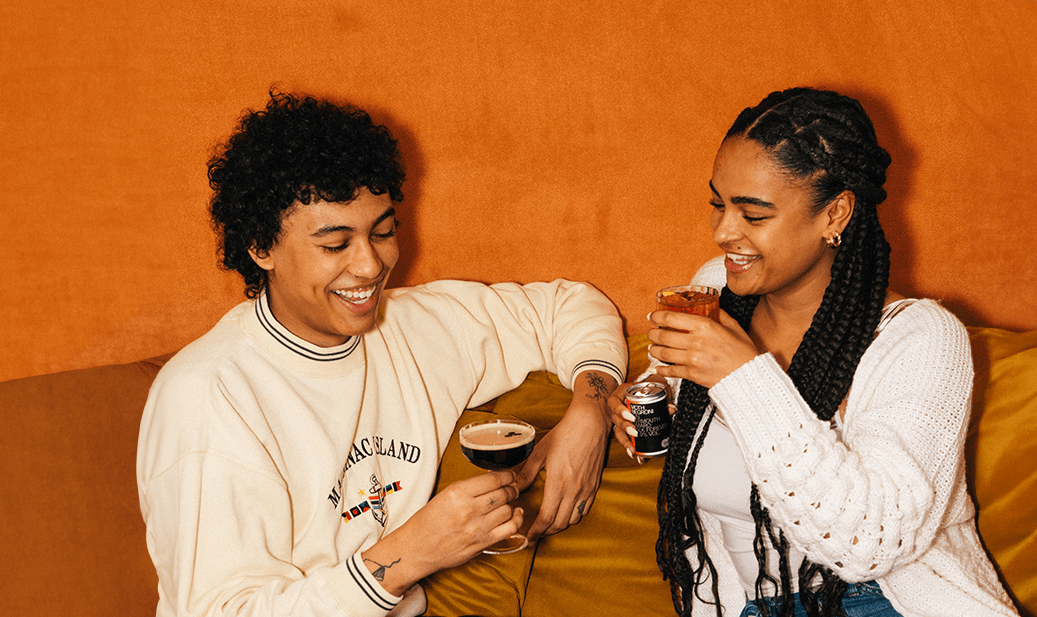 Something for everyone, and there's no duds. Will definitely order again!
Maja B - 30/10/2023
I am really enjoying my Taster Pack! Haven't yet found one I don't like. Great way of having a variety of drinks without having to buy bottles of all the constituents.
Hilary L - 08/11/2023
These are amazing. The taster pack is the best way to try them all.
Alison W - 20/11/2023
BAR STRENGTH
We're serious about cocktails. These aren't your ordinary tinnies — they're full-strength classics, made with best of the best craft spirits. Perfect every time.
Ready to go
Premixed, as handy as a can of beer, as ready to go as you are. No need to splash big on spirits. Grab it on the way to the party. Get it next-day to your door.
B CORP
We're committed to being the change we seek. B Corp certification places us amongst a global community working towards a more inclusive, equitable and regenerative economy.